According to a report by TechSci Research, the Australian online education market was valued at A$5 billion in 2019 and is expected to expand at a CAGR of over 8% by 2026. Expansion of high-speed internet services, increased adoption of online education, and continued efforts to expand access to non-traditional customers are all expected to help the industry grow.
Flexible study methods, such as online education, are expected to expand in response to movements toward reskilling and lifelong learning.
Furthermore, developments in the field of artificial intelligence and platforms that facilitate learning through gaming are gaining momentum and are expected to boost the market's growth rate in the coming years.
Implementation of cloud-based solutions and improvements in IT security have increased the adoption rate of online education systems as people can enjoy a smooth learning experience on safe online platforms.
Learning management systems (LMS) have become a part of many students' and employees' lives as eLearning has increased in popularity in recent years.
eLearning helps educational institutions and businesses to provide students with personalised, accessible, and scalable learning. Learning Management Systems have made it possible for universities to host online classes, administer tests, monitor student progress, and much more.
The 10 Best LMS Software used in Australia:
Docebo
Docebo is an LMS that is popular with mid to large size corporations. It's a modular, scalable solution that allows businesses to perform training for their employees and partners. Blended learning, course design, and off-the-shelf course libraries are all available through Docebo.
This LMS also allows you to create custom learning plans, use gamification, and perform bulk operations. This LMS's learners would have access to the mobile applications. Docebo also has e-commerce capabilities. This enables businesses to make it accessible to external students. It is one of the best LMS applications in Australia because of its numerous usage and integration features.
Mindflash LMS
Mindflash LMS is a cloud-based learning management solution for the extended enterprise that enables large and fast-growing enterprises to offer regular training on business-critical topics to thousands of contractors and channel partners.
TalentLMS
TalentLMS is a cloud-based learning management system (LMS) that assists small and midsize companies in providing training to their staff, clients, and partners. For businesses and organisations, TalentLMS is a short, convenient, and modern solution. With gamification functions, e-commerce tools, visual reports, and more, the framework has a positive personality.
Their programs are geared toward small and medium-sized enterprises, with options for larger companies. TalentLMS blends a unique set of features with a user-friendly interface tailored for today's professionals.
Acorn LMS
Acorn is a cloud-based learning management system intended to assist companies in managing employee training. White-label features are built into the software, allowing businesses to customise the user interface with their own logo, colours, and themes.
Employers can handle the entire employee lifecycle with Acorn's performance management module, which includes recruiting, onboarding, induction, and growth. Certifications, reports, personalized rules, a course catalogue, reviews and evaluation, custom email alerts, a tools collection, approval workflows, gamification, and more are among the features available.
Simplify LMS
Simplify LMS is a completely functional Learning Management System (LMS) for SMEs and Agencies. Web App end-to-end solutions are available from Simplify LMS. Gamification, Blended Learning, Video Conferencing, and SCORM Compliance are all available via this online Learning Management system.
Canvas LMS
Canvas LMS is a learning management system (LMS) that is geared to the needs of K-12 and higher education institutions. It offers easy device access as well as industry-leading graphic designs. Asynchronous learning, course authoring, and learner portals are only a few of the features that Canvas has to offer.
There are features that allow social learning, such as mobile learning and integration with Facebook and Twitter. It is one of the best LMS applications on the market because of these features.
Moodle
Moodle is one of the best learning management systems available. It is even more popular since it originated in Australia.
It includes features such as online course hosting, peer review, seminars, and Wiki forums. You can use powerful features like progress tracking and report generation to give your students a better learning experience. Moodle Mobile helps you to continue learning even though you don't have access to a computer. You can also extend Moodle's functionality by using the extensive plugin directory.
Easy LMS
Easy LMS is a cutting-edge learning management system that caters to businesses of all sizes. It is one of Australia's best LMS applications, with a user-friendly interface and a decent value for money.
With an easy-to-distribute and intuitive offering, Easy LMS lives up to its reputation. You will provide your students with multimedia content-rich interactive courses and a gamified experience. You can also white-label this LMS and customise it with custom styling to give your students a more personalised experience.
LearnUpon
LearnUpon is a cloud-based learning management framework designed specifically for the Australian market. By ensuring ease of use, transparency, mobility, and customer service, it has become one of the best LMS applications in Australia. If you don't have the time or money to configure an open-source LMS, LearnUpon is a good option.
LearnUpon is gaining customer loyalty with its fast and easy set-up, good technical support, and well-researched UI – UX. Course management, integrated learning, learning portals, and gamification are only a few of the features it offers to help you learn more effectively. It also comes with a robust collection of reporting tools to aid in progress tracking and customisation.
SAP Litmos
SAP Litmos is a popular cloud-based learning management system. It was created with the aim of meeting industry-specific requirements. With enhanced security, scalability, and ease-of-use, it is one of the best LMS applications.
Course designer, reviews, checklists, and Instructor-Led-Trainings are only a few of the features available in SAP Litmos. It is pre-configured for corporate use, with eCommerce, corporate compliance, and certifications features. Because of these features, it is one of the best LMS systems for companies.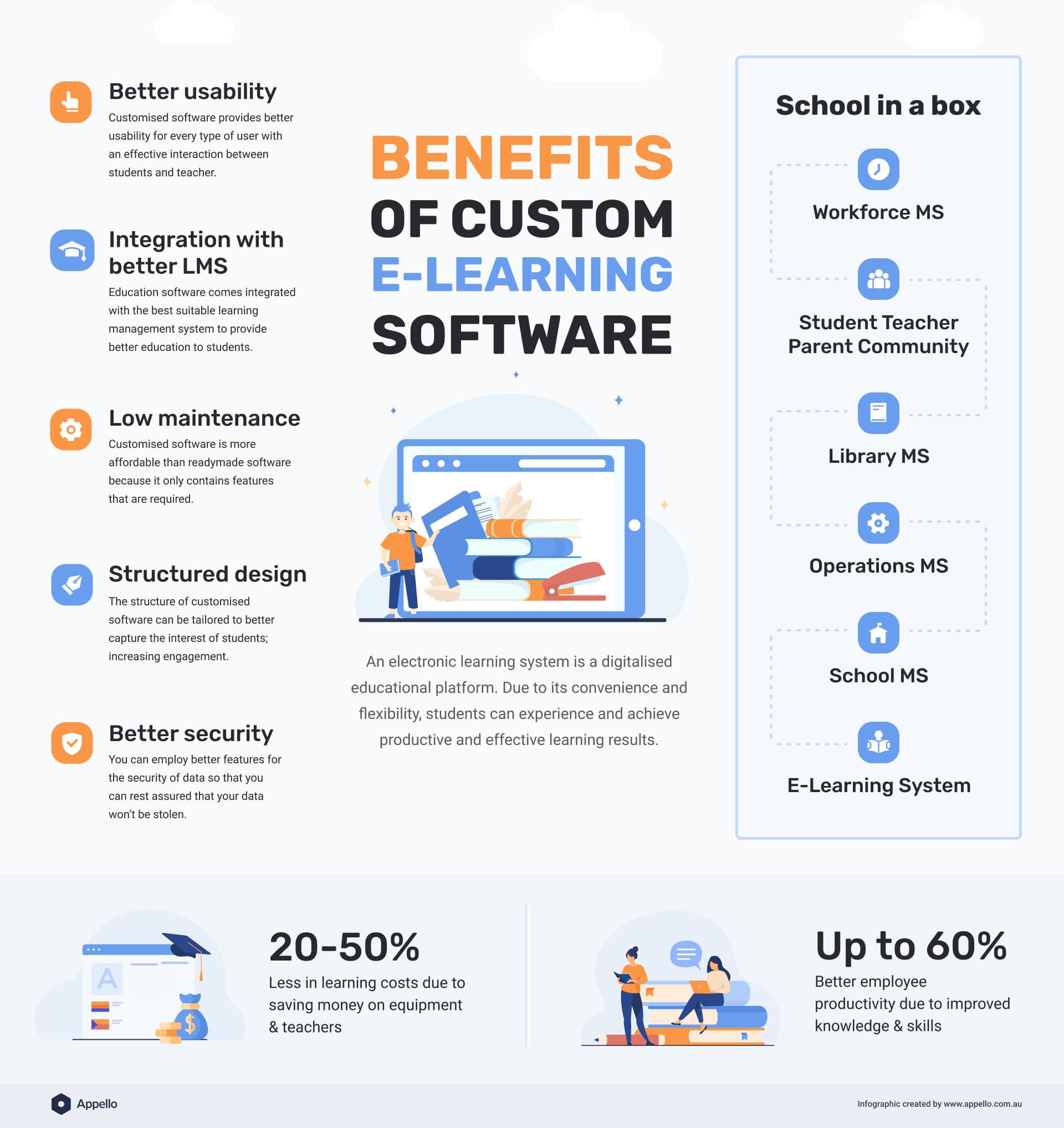 Summary
The learning management systems listed above will enable you to provide your students with the best possible learning experience. You may choose the choice that ensures the most successful education for the learners depending on the size and nature of your organisation as well as unique specifications.
Feeling inspired to create your own LMS? Appello Software designs and develops world-class software as the leading development company in Australia. Get in touch with us and let's discuss how your education software will benefit the market. 
Interested in other education technologies? In this article we discuss the emergence of AI in Education and what it means for the industry. Furthermore, in another article we go into detail about how tech has transformed the education sector.