The use of technology in education is changing the way we teach and learn all over the world. Artificial Intelligence (AI) is one of the disruptive technologies that can be used to customise the learning experience of various learning groups, teachers, and tutors.
In a previous blog post, we discussed how, with the use of augmented and virtual reality, educators can create a memorable and immersive learning experience.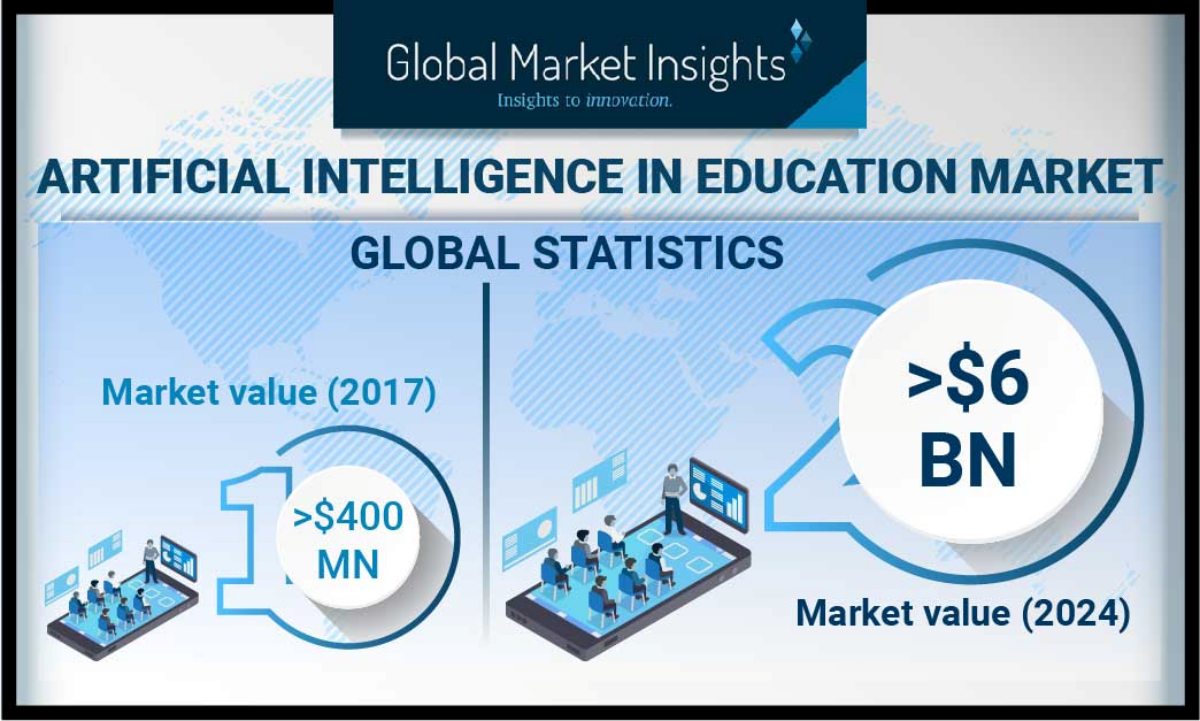 Below are examples of how AI tools may be used to enhance the education sector. 
Personalisation of Education
AI assists in determining what a student knows and does not know, as well as creating a customised study schedule for each learner that considers knowledge gaps. AI tailors studies to the specific needs of students in this manner, improving their effectiveness.
To do so, many companies train their AI to identify and represent knowledge gaps using the Knowledge Space Theory, which considers the complexities of scientific ideas and their relationships.
Producing Smart Content
Digital lessons
AI will create digital learning interfaces with customisation options, digital textbooks, study guides, bite-sized lessons, and much more.
Information visualisation
AI can power new ways of perceiving information, such as visualisation, simulation, and web-based study environments.
Learning content updates
Furthermore, AI assists in the generation and updating of lesson content, ensuring that the information is current and tailored to various learning curves.
Contributing to Task Automation
Teachers can optimise time consuming activities such as grading, assessing, and replying to students using AI.
Entrusting a set of routine tasks to AI allows teachers to focus on something more important: grading the assignments that cannot be delegated to AI, self-education, and improving the quality of the lessons.
Tutoring
Personal study programs that are constantly changing take into account the gaps that students need to fill during individual lessons. Personal tutoring and support for students outside of the classroom helps students stay on track with their studies and relieves their parents of the burden of explaining algebra to their children.
Teachers save time with AI tutors, so they don't have to spend extra time explaining difficult subjects to students. Students can avoid being embarrassed by asking for assistance in front of their peers by using AI-powered chatbots or AI virtual personal assistants.
Ensuring Access to Education for Special Needs Students 
For students with learning disabilities, the adoption of innovative AI technologies opens new ways of communicating. Students with special needs, such as the deaf and hard of hearing, the visually impaired, and people with ASD, gain access to education through AI.
AI tools can be successfully trained to help any group of students with special needs.
How students benefit from AI 
Access to Learning
With AI helpers based online, students always have access to learning. They can plan their days without being tied to a particular location. They can study on the go, at any location and at any time. They are free to plan their days around their most productive times.
Improved Engagement
Individualized schedules, custom assignments, interaction with digital technologies, and personalized recommendations are all part of the AI-assisted personalized approach to each student. Furthermore, a personalized approach makes students feel special, improving their engagement and interest in their studies.
Less Pressure
Students can stop comparing themselves to one another thanks to lessons tailored to the needs of various learning groups. A student may have asked a teacher for assistance in front of the class earlier. It is now sufficient to type a question into a personal virtual assistant and receive an immediate response.
These opportunities provided by AI tools bring personal progress to the forefront, reducing classroom pressure. Less pressure equals less stress and a greater desire to learn.
How to Start Implementing AI
These steps will assist you in planning your project if you are considering AI to customise the learning experience.
Identify your needs
The identification of the pain points that this technology can address, and resolve is the first step in introducing any technology. Find the bottlenecks in your system and investigate how AI can help you improve them.
Determine the strategic objectives of AI transformation in your organisation
Do you want to be an early adopter or the follower? Which technologies are most appropriate for your business? Are you aware of the limitations of AI and how you plan to address them? Which of the following business goals can AI technology help to achieve? You should conduct a cost-benefit analysis for AI automation and augmentation based on the answers to these questions.
Create suitable environment
To get the most out of AI tools, you should not only choose the right team to implement the technology, but also create the right environment on all organisational levels, one that is driven by analytical insights and centred on actionable decisions.
Determine KPIs
It's critical to ensure process transparency and keep up with the key factors and metrics of AI adoption when creating an environment where humans and Artificial Intelligence can coexist. Determine the performance indicators to track, security issues to address, and technological ecosystems to support based on the unique features of your organisation and the type of AI introduced.
If you keep up with worldwide trends, you'll notice that personalisation is becoming increasingly popular. The primary benefit of Artificial Intelligence is that it can be trained to perform a wide range of tasks, allowing for a more personalised approach to education.
It's a universal solution for learners and educators to get a set of tools tailored to their unique needs to improve their routine, increase efficiency, improve accessibility, and scale processes.
Appello Software has great experience with developing educational apps and software. Get in touch to discuss how we can integrate AI technologies into your project and receive a quick quotation.