Crowdfunding, a practice of funding a project or a venture by raising funds from several individuals has changed the way you can raise capital when starting a business venture. It makes it easier to get your idea in front of potential investors and encourage them to invest in your company with a lower initial investment.
What is Equity-based Crowdfunding?
Equity-based crowdfunding allows you to raise funds from the public in exchange for unlisted shares (equity) in the business. 
Offering investors a convertible note is an alternative to offering them stock. In this situation, the investor loans money to the company in the hopes of later converting the debt into stock. This approach is often used while a company is still in the early stages of development and its importance has yet to be determined.
According to TechCrunch: "Equity crowdfunding is making the private markets public." A new regulation by the  Security and Exchange Commission (SEC) meant that the threshold of how much companies can raise via equity crowdfunding has increased. $5 million per year compared to the previous limit of $1.07 million.
Equity-based crowdfunding has been around for a long time in Australia, but it was historically only available to wholesale investors. Following the passage of legislation in 2017, the law was expanded to include institutional investors, giving rise to what is now known as crowd-sourced funding (CSF). Companies must use an approved intermediary (a "platform") to collect funds through CSF.
The best equity crowdfunding platforms in Australia are Birchal and Equitise, both giving access to anyone to invest in Australian companies, not just professional investors. They are also the best crowdfunding sites for startups as well as OnMarket.
What does Reward-based Crowdfunding mean?
Reward-based crowdfunding has existed much longer than CSF. It is a simpler and largely unregulated process. People use this method to make an online contribution in exchange for a reward. The rewards vary depending on the amount offered, but they frequently include the product or service you plan to launch.
For start-ups looking to test the market, reward-based crowdfunding is ideal. It's a safe bet that if their idea doesn't attract money, it won't attract customers. It's also a strong source of capital for companies with new goods or loyal customers. 
The top reward-based crowdfunding platforms are Indiegogo and Kickstarter.
Real Estate Crowdfunding 
Real estate crowdfunding is the practice of financing a project by raising funds from multiple accredited and non-accredited investors. It helps buyers to enter the property market with a much lower initial investment, allowing them to diversify their real estate assets more effectively. Companies including DomaCom, CrowdfundUP, Brickraise, and VentureCrowd are using crowdfunding platforms in Australia to pool the funds of numerous investors, allowing them to access opportunities that would otherwise be out of reach for many.
In fact, Fintor, a US real estate startup, has raised $2.5 million in seed money to continue building out its fractional real estate investing platform. They turn real estate investment opportunities into micro-equity shares starting at around $5 to make investing in real estate available to everyone.
One of the top real estate crowdfunding platforms, Fundrise, is a Washington-based company founded in 2010. It attracted around $55.5M of investments in 7 rounds of fundraising.
While Real Estate Investment Trusts (REITs) have long provided investors with a way to invest in real estate without having to buy the whole asset, democratised funding platforms give investors much more leverage and knowledge. Investors now have real-time access to data on their investment's success as well as a more active say on how it is handled. Deals are often pre-vetted, removing the need for investors to negotiate pricing. Those with Self-Managed Super Funds were among the first to follow this investment strategy.
One of the model's greatest advantages is that it is genuinely win-win for both investors and developers. For those trying to finance a new project, the opportunity to easily reach a wider audience means allocations can be filled even more quickly, enabling work to begin sooner. The technology also automates much of the paperwork usually associated with real estate investing, allowing users to invest with a single click.
How to Start a Real Estate Crowdfunding Platform
When it comes to building a real estate crowdfunding site, one of the most important decisions to make is the platform's functionality and creation process. There are two main ways to know how to start: custom development, and SaaS.
Custom Development
Custom development means building a platform from scratch. Typically, custom development is a rather long-term project. It requires taking a lot of steps during the development process.
Choose a custom development if you want to:
Raise funds to start a long-term project. 
Produce a high-quality product.
Create distinct features.
Take command of your project.
Integrate with external APIs and utilities with ease.
Invest in a scalable platform that can accommodate future development.
Build custom UX that caters to the needs of your target audience.
SaaS
Software as a Service (SaaS) typically has a limited set of features and, in some cases, does not even allow for the addition of new features. If you want to add more features, you'll need to hire a software development company like Appello to do so.
Choose SaaS if you want to:
Put your concept to the test.
Have an easy and fast solution.
Stick to a very tight budget.
Launch a real estate crowdfunding platform as soon as possible.
Main features of a Real Estate Crowdfunding Platform: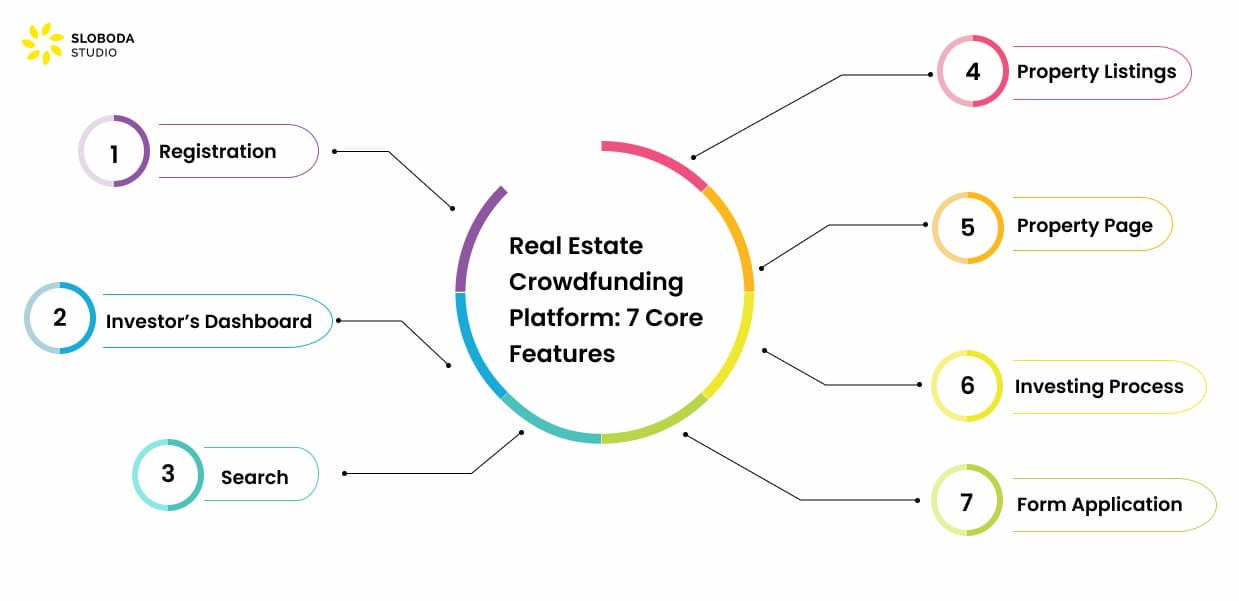 The Future of Real Estate Crowdfunding
There's no denying that the Australian property market has a lot of potential. By 2027, the real estate crowdfunding market is expected to be worth approximately $868,982 million. This means that big real estate developments will be made in the coming years, and the market will have enough space for new platforms.
There were over 125 real estate crowdfunding sites in 2006, according to Crowdfund Capital. About 30 000 companies concerned with real estate investments and crowdfunding can now be found all over the world.
Real Estate Software Solutions and Crowdfunding platforms are some of Appello's core domain focuses. We've built numerous software for real estate businesses. The next could be yours! Contact Appello today. 
View some of our real estate projects such as Walker Corporation's Parramatta & Collins square apps as well as the Bresic Whitney app.