Mobile applications have transformed the way businesses operate, and offer the most efficient, direct, and customizable way to deliver information about a product and encourage consumers to remain loyal to a particular brand.
Consumers today prefer to solve their problems on their mobile phones, regardless of using an application for communication, shopping, or transportation applications. Given these new consumer behaviours, businesses need to transform to meet their consumers' needs and be present in the best way possible. 
When well designed, and developed with user-focused systems, a mobile application can be valuable to a business' marketing and sales strategies.
Mobile applications in the modern world carry the same importance as websites used to have a decade ago.
PropTech in Australia
According to PropTech Association Australia, a national member association to grow the emerging PropTech industry, there are more than 600 PropTech businesses in Australia alone and the industry is growing rapidly with an explosion of start-ups over the past 3 years. COVID-19 has demonstrated how the industry can transform fast and is a massive opportunity for all PropTechs.
If PropTech in Australia is to continue to compete on an international scale with other more established countries like the US and UK, they need to think globally in terms of their reach. 
PropTech businesses can instigate rapid growth, leverage their technology, and play their part in the drive towards smarter living and adapt to the fast-moving technology shift in their industry. Business models are drastically in need of changing as the needs of the population change and digitally savvy millennials come to the fore to demand more from products and services across the property spectrum.
Businesses that drive the digital agenda and actively seek out technology to better meet the needs of the business and its consumers, will be at the forefront of digital transformation. By choosing the right solutions and carefully managing the change process, Australian property businesses can gain competitive advantage, open themselves up to a major growth opportunity with the potential for lucrative new revenue streams.
All signs point to Australia having a strong PropTech ecosystem with bigger investments and technology integrations to come that could well see Australian PropTech gaining international interest and investment.
Of course, as Australia is making progress towards the growth of smart cities, the implementation of PropTech will be important to provide smart infrastructure and functionality that will allow the nation to be seen as a major technology and global business hub that attracts top talent and foreign investment.
Real Estate Mobile Apps
Real estate mobile application development is an effective approach to search for properties interactively. Real estate applications get millions of monthly visits thanks to the convenience they create with an on-the-go search. According to the 2019 National Association of Realtors® Real Estate Report, 80% of millennials searched for homes on a mobile device, and 52% of house hunters and renters of all ages found their home by beginning with an online search.
The 7 Best Real Estate Apps:
Zillow: Best Overall
Xome Auctions: Best for Auctions
Redfin: Best for Home Purchase
Trulia: Best for Home Values
Realtor: Best for Rentals
Apartments.com: Best for Renters
LoopNet.com: Best for Entrepreneurs
Appello tendered a partnership with Walker Corporation in 2019. Since then they've helped design and develop 6 separate software systems and consumer mobile apps for them. One is for Collins Square in Melbourne and another for Parramatta Square in Sydney. The apps include a visual art gallery, NSW and VIC transport integrations and concierge services.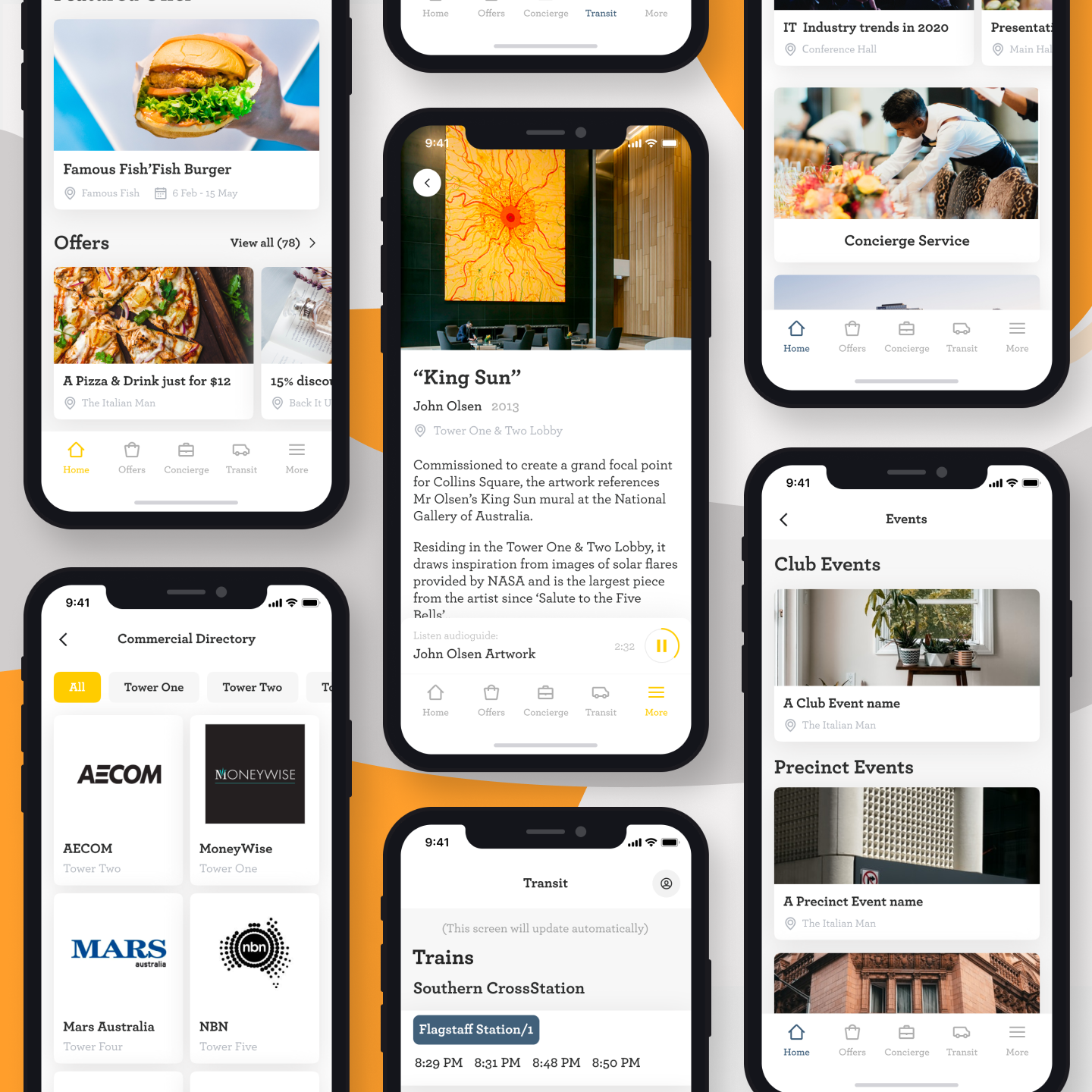 Appello also designed and developed an app for Bresic Whitney Real-Estate. Building their own database which can help sync information seamlessly between the mobile app and the REX database the agency is currently using. They are also updating the user-Interface to a new design.
Construction Mobile Apps
The Real Estate Industry faced a lot of rapid changes in the economy and as such were negatively affected. This led to the adoption of mobile technology to increase productivity and as a cost saving effort. As such, Real Estate app development has become more important for the construction industry to stay competitive in the market.
The aim of using mobile applications in the construction industry is to improve the existing IT infrastructure, applications, communications, and process of the construction. Mobility solutions help to undertake the location-based activities in a smooth way. In addition to the location-based requirements, real estate mobile apps help the onsite workers or agents to manage the information anytime from anywhere through the smartphone in.
There is still a lot to be done in terms of educating the marketplace as to the power and scalability new technology can bring to their business. Sometimes businesses are too fixated on the cost of integration and deployment of new technology across their business and, whilst of course important to consider, they need to think more about what the cost could be if they don't push forward and provide consumers with a faster and slicker experience more specifically tailored to their needs.
Top 6 Construction Apps:
Hubstaff – one of the construction apps for timesheet management
CITB HS&E Test Apps – construction apps for health and safety training
Appello designed an architectural engineering app for Arcadis which uses augmented reality to create a public realism design in 3D.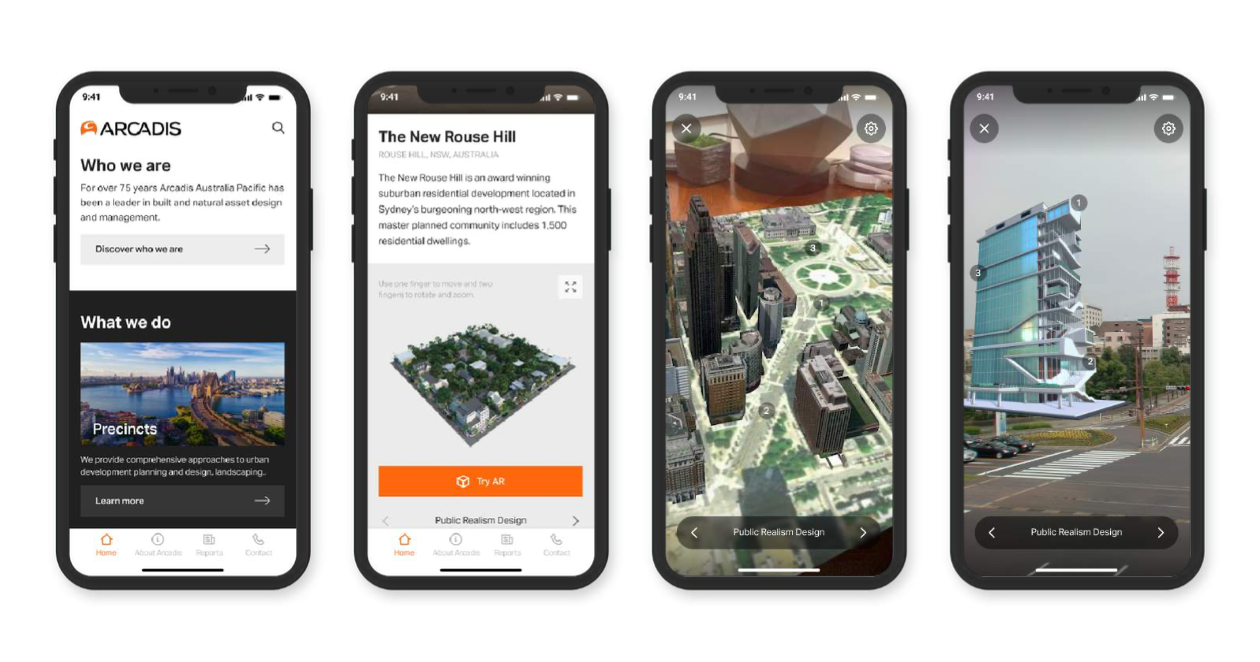 Project Management Apps
A project management application provides you the ability to easily establish a hierarchy of tasks for effective and efficient completion. It also lets you indicate which steps are sequential and which tasks are dependent on one another. In turn, this makes it easier for the team to do their work.
There are 3 key criteria that you should look for when comparing project management software mobile applications: compatibility, functionality, and security.
Businesses that are not yet utilising Project Management software are likely to do more work while gaining less profit because of the time wasted on juggling little tasks. If these tasks are taken care of efficiently, you and your team will have more time to focus on core operations to complete your project.
There are a lot of Project Management software programs available that focus on key features such as tracking and organising the project management process. Knowing the features, you need for your own business is essential to choosing a product to implement in your daily business operations.
The Real Estate, PropTech, Construction and Project Management industries will benefit greatly from adding a mobile application to their toolbox as it can help a business grow rapidly. Your customers and workforce can benefit from being able to access your products and services anytime they want and while on the move.
Mobile applications can be used for in-house purposes or for your customer to download. Appello designs both options, just tell us what you need it to be. Our experts are ready and waiting.
Contact Appello today for more information on our app development services.