Below is a flowchart of how the app development process happens at Appello. Communication with the client throughout the project is of utmost importance. We work closely with the client and keep everyone in the loop at all times.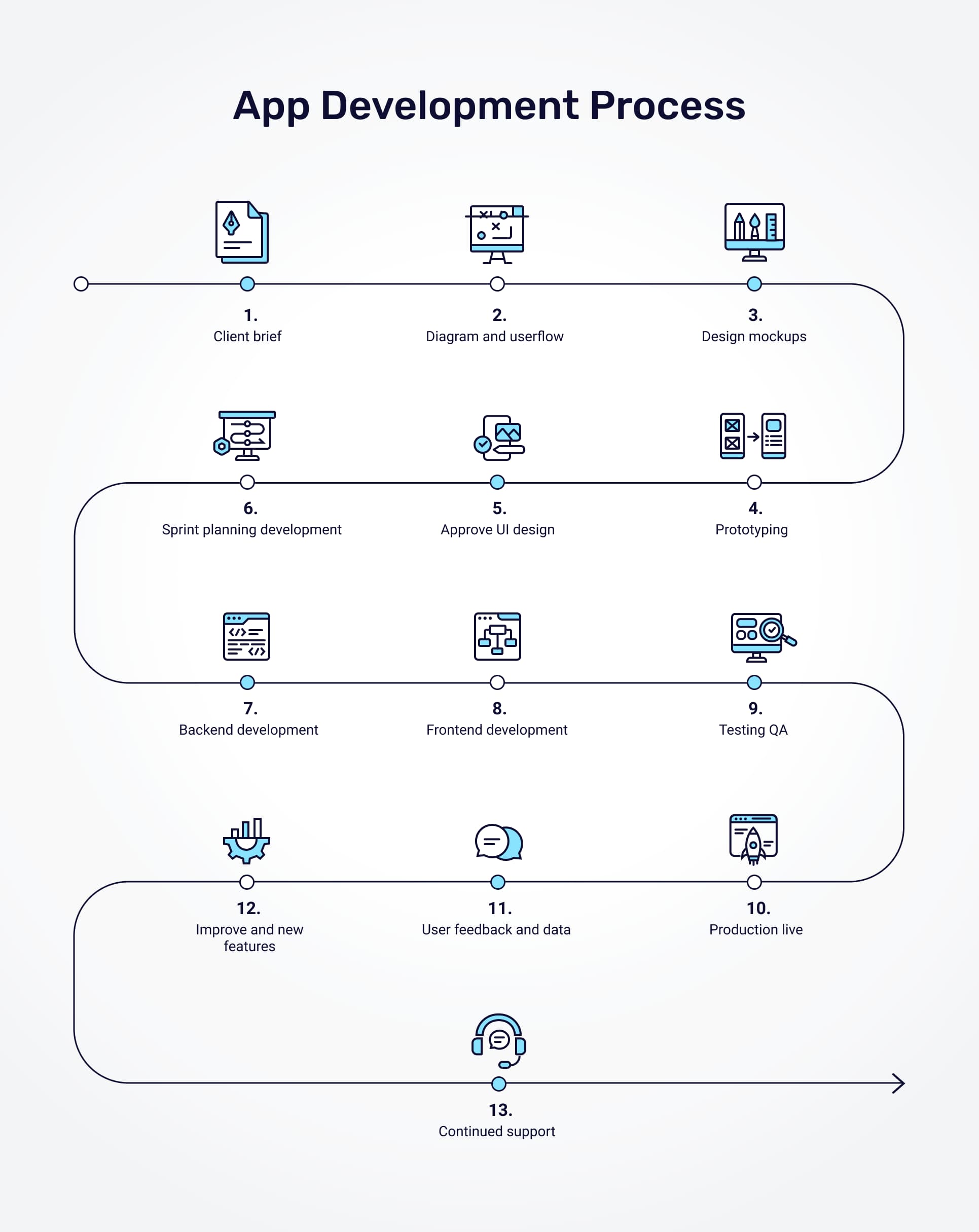 Stages in our App Development Process:
Client brief
Diagram and userflow
Design mockups
Prototyping
Approve UI design
Sprint planning development
Backend development
Frontend development
Testing QA
Production live
User feedback and data
Improve and new features
Continued support
What is the Development timeline?
Depending on the complexity of the project, this process takes about 3-9 months. Every project is different; it depends on your functional specifications, type of technology proposed, and product design architecture. All software developed by Appello has our own design elements built around the clients requirements to ensure the highest quality of user experience and functional outcome.
How many team members per project?
Resources are allocated according to our client's retrospective goals. A standard team consists of a project manager, product designer, front and backend engineer, and a QA engineer over the duration of development.
How we ensure deliverables are met
Each project is allocated to a project manager who conducts daily standup meetings and regular weekly updates on project demos and delivery dates. Our payment structure is based on a roadmap that sets clear and measurable expectations from the beginning of our partnership.
What is your privacy and security policy?
All of our service contracts are legally binding and cover clients for IP protection. Our security policy ensures that all code developed by Appello is only in the hands of our employees without any third party involvement.
Good to know: We're more than happy to sign a Non-Disclosure Agreement (NDA) before we discuss your project.
We build web and mobile software for business. Contact us to discuss your requirements and to get a project quote.